Naturopathic Medicine Awareness Week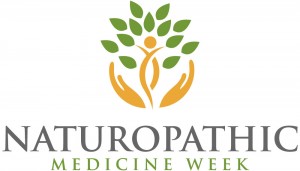 Naturopathic doctors provide "safe, effective, and affordable health care" according to the United States Senate!! For the 2nd year in a row, the US Senate has unanimously passed AANP's Naturopathic Medicine Week Resolution, designating the week of October 6th through October 12, 2014, as "Naturopathic Medicine Week" to recognize the value of naturopathic medicine in providing, safe, effective, and affordable health care.
Naturopathic medicine is a form of medicine that:
      Takes the whole person fully into account
      Offers individualized health solutions
      Treats the underlying causes of illness
      Emphasizes prevention of illness
       Uses natural treatments that are less invasive than conventional drugs and surgery
The following is an excerpt from the American Association of Naturopathic Physicians (AANP): "Naturopathic physicians attempt to find the underlying cause of the patient's condition rather than focusing solely on symptomatic treatment. For example, a naturopathic doctor focuses diagnosis and treatment on causal factors of congestion, such as a food allergy or an environmental factor, to prevent it instead of getting rid of the symptoms alone. Naturopathic doctors collaborate with all branches of medicine referring patients to other practitioners for diagnosis or treatment when appropriate. Naturopathic physicians are pledged to fostering individual and community health through the application of naturopathic principles."
Visit the following link to learn about naturopathic medicine and the 6 principles that guide the therapeutic methods and modalities of naturopathic medicine.
Currently, 20 states and territories license naturopathic doctors to practice. Licensed naturopathic doctors are graduates of four-year naturopathic medical schools with admissions requirements comparable to those of other medical schools. Degrees are awarded after extensive classroom, clinical and practical study. Medical science coursework includes cardiology, neurology, radiology, obstetrics, gynecology, immunology, dermatology, and pediatrics.
Licensed states: 
Alaska • Arizona • California • Colorado • Connecticut • District of Columbia • Hawaii • Kansas • Maine • Maryland • Minnesota • Montana • New Hampshire • North Dakota • Oregon • Puerto Rico • U.S. Virgin Islands • Utah • Vermont • Washington
In our office in Minnetonka, MN we have 2 naturopathic doctors (licensed in both Minnesota and Arizona) that provide holistic, natural medicine for the entire family. Here at CNH we utilize safe, gentle, and effective therapies that work to stimulate your body's amazing ability to heal itself. We do not believe in merely treating or suppressing symptoms. Our goal is to identify and treat the underlying cause.
We encourage you to explore our website to learn more!
Please feel free to call our office at 952-417-1912 with any questions.