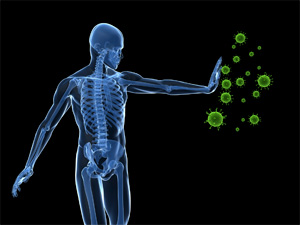 Although the winter weather continues to linger on here in Minnesota and throughout the Midwest, warmer weather will (hopefully) be upon us very soon! As the season's change and the temperatures rise, this can often result in greater temptation to make less healthy choices when it comes to meals. This can result in the body's immune system becoming "weakened" from all the junk food and toxins we are consuming. The end result is often becoming acutely ill and this is one of the more frequent times throughout the year where folks "catch a cold". This acute illness is actually an innate cleansing process where the body is trying to eliminate toxins, purging them from our body!
The good news is there is much that can be done to help support and strengthen your immune system and in turn, your overall health! Some simple ways this can be achieved is through reducing stress in our lives and staying physically active. This can include a simple walk around the block or participating in a local yoga class. The goal is to just get moving! Getting adequate sleep is also imperative. Sleep deprivation suppresses immune system function and has been linked to many mental and physical health problems.
Another way to help enhance immune function is eliminating harmful, unhealthy, and high sugar foods. These include refined, processed foods (white carbohydrates, pastries, desserts, junk food, fast food, sugary drinks, etc.) that are often stripped of their nutrients and high in both calories and sugar. Sugar suppresses the immune system, promotes insulin resistance, inflammation, and leads to weight gain. Focus on eating whole foods and a more plant-based diet. Whole foods are simply foods that are closest to their natural state and have not been processed and refined. Focus more on 100% whole grains such as quinoa, millet, oats, etc. and limiting your wheat intake, along with eating brightly colored and green leafy vegetables that are high in antioxidants. Try some healthy snacks like blueberries, goji berries, chia seeds, raw nuts and seeds (walnuts, almonds, sunflower seeds, etc.), and baked kale chips.
So as the seasons change, take advantage of the warmer weather and stay healthy by getting adequate sleep, becoming more physically active, and choosing foods that support and enhance health! There are many other effective ways and strategies to enhance our immune function & improve health. To learn a more comprehensive approach at improving immune function, call our office today @ (952) 417-1912.